Lester Glenn Community Involvement
Since 1956, Lester Glenn Auto Group has operated with a core set of values focused on customer 
service and community involvement.
While we have grown over the years from a single-car showroom to nine state of the art locations in New Jersey, we know that we would not be where we are today without the loyalty and support from our customers and local communities.
2020 Lester Glenn Community Involvement Initiative | Lester Glenn Cares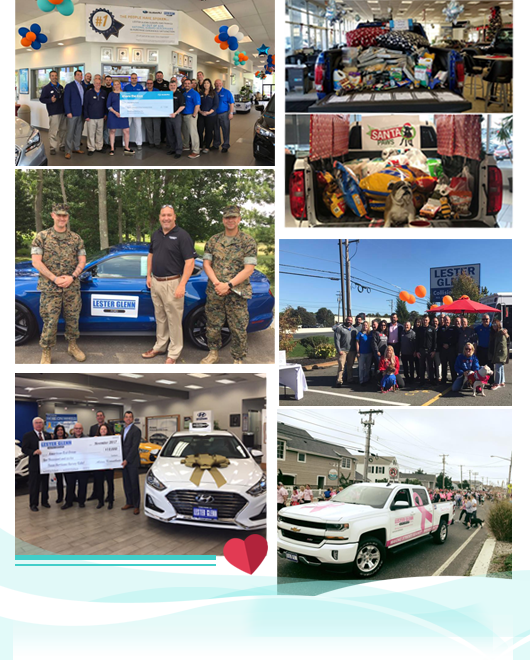 Throughout the years, the Lester Glenn Family of Automotive Dealerships has been proud to participate in and support local events, fundraisers and organizations in our community through the Lester Glenn Cares Community Involvement Initiative. 
From sponsored charity golf outings, to holding fundraisers in our store, to annual giving, to providing items for auction, we are proud to play a small role in supporting the amazing nonprofit organizations in our community. 
In an effort to provide even more meaningful support to select organizations in our community, the Lester Glenn Cares Committee launched a campaign in 2020 where each Lester Glenn showroom would have an opportunity to select a Lester Glenn Cares Community Partner for the year.
Each showroom within the Lester Glenn Family of Dealerships was tasked with finding an organization whose mission aligns with one of the Lester Glenn Cares' causes and passions:
Assisting our community members in need
Helping preserve nature areas in our community
Assisting current and retired heroes in our community 
Providing experiences and opportunities for children in our community
Providing support to help our community stay as healthy as possible
Educating our community
Each individual Lester Glenn showroom will donate a portion of every vehicle sold throughout 2020 to its community partner, as well as participate in special events with the community partner throughout the year. 
Continue reading to learn more about the Community Partners for 2020!